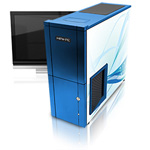 Voted the best computer store in Hawaii by the Hawaii Island Journal and voted best computer store in North Hawaii News for several years.
Falcon Computers Hawaii
Falcon Computers started in Denver Colorado in 1995 as a small computer repair shop catering to small businesses and residential customers as an alternative to the high cost computer stores at the time.  We got big pretty fast and moved to a much larger space in 1997 and continued to service our local community with integrity and honesty.  Word spread pretty fast and we became a "go to" place for people looking for a new computer or service. In 1999 we moved to an even larger space in order to service more computers faster. As Hawaii was set in the owners mind as a place to live, Falcon computers of Hawaii was opened in Kailua-Kona in 2003. We gained an excellent reputation very fast as "the place your friends told you about". We had customers driving to Kona from Hilo, Naalehu, Hawi, and Honokaa, and we knew that we needed to get another store built, so we built our second store in Kamuela/Waimea to service the north side of the island and closer access to the east side of the island. Our Waimea store did well immediately, and we knew we had made the right choice. In 2008 we consolidated both shops and headquartered in Kamuela but we are happy to say that we have opened back up in Kona and again are offering great service and products to all our Kona friends. We still find technology to be amazing, and love to have the opportunity to help folks out that are looking to improve on their own computers, tablets, smart phones etc.. We have gained so many great friends and loyal customers here in Hawaii, and you can bet we'll be here for a long time to come. We hope you will stop in and have a look around, or just talk story.
Voted Best Computer Store
In 2003 when we opened, we worked as hard as we could to make sure that we did the best for every customer that came in our door, just as we do today. We were new to Hawaii, and our Kailua-Kona store struggled for the first couple of months to get the word out that we were here and ready to help. Soon we started to get folks coming in regularly, and back then we had a paper called the Hawaii Island Journal that was an Island wide free paper. They ran a yearly "best of Hawaii" that covered the whole island.  All the winners had to be voted by the readers in order to win, and from 2004 we won as best computer store and continued to win until 2008 when the Journal stopped printing.  In 2007 we opened our second store in Waimea/Kamuela and we started winning "best of North Hawaii" in the North Hawaii news. We have won for 2009, 2010, 2012, and 2014, and 2015-2016 winners have not been declared. We take pride in winning these awards because we know that it comes from treating folks right. It also helps new customers to see that other people have faith in our work and our equipment. We expect to keep winning them if they start the voting again. We believe that we win because we work hard to give exemplary  service to every customer that walks in through our doors.
We  will continue to work hard to earn your business.  We pride ourselves on excellent customer service with a commitment to honesty and communication. Call us for all your computer needs. Falcon Computers is where you can find the best when it comes to all your computer needs.
We provide sales, repair and other services for desktop or laptop computers on the Big Island of Hawaii. We have one retail store located in Waimea and a new store in Kailua-Kona, and we have a free courier service from Hilo and from Kailua -Kona.

    Budget Systems
    Used Systems
    Data recovery and backup
    Diagnostics
    Hardware and software sales
    Laptop repair
    BTO (built to order) systems
    Web development with database solutions
    Onsite Service
  Remote Access Service - Click Here for more information
   Home and Enterprise Networking
    Gaming Rigs

Stop by or call to see what a difference we can make to your computing experience. Falcon Computers Hawaii is the place Hawaii Gamers go for their custom gaming rigs.
          We are a family run business. Meet our family:
Falcon Computers Hawaii  Kailua-Kona Location
74-5605 Alapa St. Bldg. B#207
Kailua-Kona HI 96740

Tel. 808-334-1988

Hours Mon-Fri 10:00AM-5:00PM

Saturday - Sunday closed

Click Here to Contact us